The wispy bang is a very subtle addition to any hair style, especially the long hair style. See examples below how the wispy bangs create dimension with many hair styles. You may need the help of some hair products, such as pomades, or even hair spray to keep the wispy strands in place.
Broooke Wispy Hair Bangs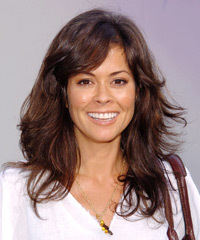 Brooke is wearing a wispy bang that is side swept gently off her face. The wispy bang really opens up the face and helps to draw attention to the eyes.

Brooke looks fabulous with this funky 'do. Razor

cut layers have been placed throughout her sides and back to

create this flicked design. Short swept bangs have also been

added to blend in with this look. Create this style on your own by first applying a styling cream or volumizing cream throughout damp hair. Blow dry the hair using a large round brush.

When completely dry, you can add soft waves throughout using a medium barrel curling iron or hot rollers.


Back comb small sections of hair in the crown area and pull back most of the hair in the crown are into a high ponytail, leaving out wispy strands in the front. Curl ends of wispy bangs slightly for an even softer look.