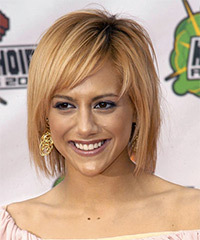 Do you have a short hair style? Should you get short bangs, long bangs, choppy bangs? Take a look at some short bang examples in our gallery. If you have a short hair style, you could create a very edgy look by adding short bangs.There are so many different types of bangs that you could literally create 10 different looks just by adding a different type of bang.
There are choppy bangs, short bangs, long bangs, regular or basic bangs, side swept bangs. Short bangs can create a very edge look, especially if you have a short hair style to begin with. You can wear them layered, choppy or as a fringe. These types of bangs are great for angular face shapes since they create movement without sacrificing length. Be bold and get short bangs with your long hair style.

Brittany Murphy is wearing a short hair style with very short bangs The style works well with her face shape and helps to draw attention to the eyes. This hair style will require extra styling time every day to keep the layers going the way you want. Use hair care products with extra hold if you have trouble getting you hair to stay put.
To create this style, first work gel evenly through damp hair. Blow dry the hair using a vented brush to direct layers as they dry. Flip ends up and blast with the blow dryer to create the flirty flipped up hair style. Comb the layers in the crown area forward and apply a small amount of pomade wax to keep the hair in place. Finally add a flower or decorative barrette for fun to make this a very playful, flirty hair style




Short bangs can make a short layered hair style look very modern
Barely there short bangs add just the right effects to this short layered hair style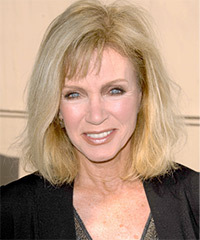 This low-fuss hairdo is great for those looking for style that will look fab in a matter of minutes. The length is cut one length to the shoulders with no layering to maintain a simple yet solid form. Short bangs are added to frame the top of the face and completes the look magnificently.