The regular type of bangs work well with a face shape that includes a high forehead. The hair works to lessen the appearance of height, bringing all facial features into a more proportionate look.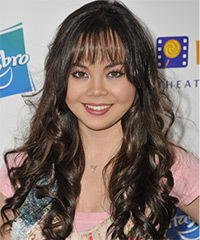 Beautiful curls added to the mid-lengths to ends of this 'do creates bounce and movement which is perfect for those with long locks looking for a simple yet sassy style. The bangs are smoothed out to frame the face for a magnificent finish.
The full hair bang will require frequent trims to keep it fresh and out of your eyes. Many hair stylists will trim bangs for free in between haircuts. In some cases you don't even need an appointment, just show up at the salon and ask for a hair trim.
First determine your face shape. face shape AnneHathaway, left, has a long hair style that is complemented with long regular bangs. She is wearing her hair in an updo for this photo. Regular hair bangs are cut either straight across the forehead at a length somewhere between short and long hair.

The bangs can be angled, allowing for the sides to be slightly longer. This kind of hair style with bangs takes your average looking style to the next level. Hair style, shown right, features a slight side swept approach for the regular bang.
With a full bang, it will be difficult to keep the bangs in the side swept position unless you use some serious hair care products. If you have long hair, you may want to try bangs in a virtual hair styling program before you get them cut, since it will take a considerable amount of time for those bangs to grow out if you do not like them.
Carol Alt, see photo right, is wearing an updo hair style with regular hair bangs. All of her hair is pulled back into a high ponytail, leaving no part. Regular bangs that are slightly longer on the sides are left out of the updo and add softness to the hair style.
To create the extra smooth, shiny appearance, you can run a flat iron over the bangs and then spray a shine serum on the bangs. Shine serum contains the ingredient silicone which helps to seal the cuticle, reducing frizz and adding shine.




If you love the look of long hair, but don't have the patience to wait years for it to grow out, why not try hair extensions? Hair Extensions can be attached to your natural hair by one of many different methods for a natural free-flowing hair style