Regular bangs can turn your drab hair style into a dazzling hairstyle complete with eye-catching appeal.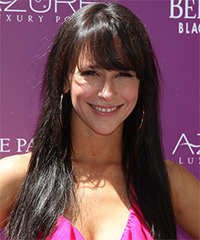 Jennifer Love Hewitt is wearing a regular bang. The hair is swept ever so slightly to the right side of her face. Notice how the bangs angle down slightly on the sides.
The full regular hair bang is typically cut in a V-shape in the center of the crown. The ends can be textured so that they are not straight across. Layers are sometimes added to the full hair bang to lighten it up a bit, especially if the hair is super thick. Layers will make the bangs easier to style and keep in shape.
Frequent trims will be needed for this type of bang since it is already right at the eyebrows. Hair typically grows about 1/2 inch per month, so bangs at the eyebrows will become troublesome very quickly if not regularly trimmed.
Some hair salons will offer free bang trims in between salon visits. Many salons don't even require an appointment for this free service.


See more regular bang examples below.
Cheryl Tweed Hair Styles

Cheryl Tweed is wearing a partial updo hair style that features regular bangs and a few wispy side fringe bangs and highlights.

The bangs are cut to a medium-long length and are curled under slightly, resting on her eyebrows This type of bang is very trendy today as more women are adding the full hair bang to medium and long hair styles.

Add highlights throughout hair to add depth and flair to this hair style.