Do you know the fastest way to get a brand new look? You guessed it----Add BANGS! but which type of bang will go with your hairstyle? Do you have a short hairstyle, a long hairstyle, or does the length really matter when it comes to bangs? There are so many different types of bangs that you could literally create 10 different looks just by adding them. There are choppy bangs, short bangs, long bangs, regular or basic bangs, side swept bangs
Adding bangs to a short hair style can make you look very sexy and alluring. Adding bangs to your long hair style can liven it up without having to sacrifice length. Whatever your hair style, there is a bang that will work for you. Browse our bangs gallery for some great ideas on types of bangs.
*Should You Get Bangs?
Rosanna Arquette looks great with a stunning medium hairdo.The length sat on her shoulders and showed off layers, cut through her mid-lengths to her ends, that achieved a lovely weightless finish. Wispy bangs were added to frame the top of her face and complete her look perfectly.

How to Style:
Allow up to 2 hours styling time for hot roller setting, teasing, pinning and spraying. Llong lasting hairstyles are great for all occasions and all weather conditions.
Choppy, layered bangs are great for adding a lot of style to hairstyles. The ends can be styled flicked out or under. Piecey bangs can esaily be created by applying a small amount of pomade to the ends of the hair. The pomade helps to break apart the hair and make it stay in unique positions. Just be careful that you don't apply too much product as this can make the hair appear greasy and unmanageable.
Many hair salons offer free bang trims in between haircuts since they tend to be in your face very quickly depending on how you cut them initially. Or, you can learn to trim your bangs at home- it's not that complicated to do.
SEE Top 10 Hairstyles bangs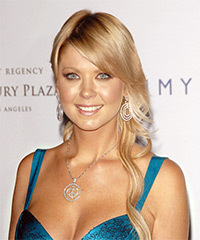 Tara pulled off this great look at the 14th Annual Race to Erase MS Themed "Dance to Erase MS" event. Her hair was parted to the side and pinned back while a small piece of hair was sculpted into soft waves and styled to fall over her shoulder to add movement into her long style. Tara's bangs were also side swept and soft pieces left around her ears to create a soft look. This style will suit most hair types.
Straight hair combines with the tousled look for a flowing look that sizzles at every event.
Long layers added throughout make these hairstyles easy with a sleek finish.
*6 Steps to Great Looking Hairstyles.
Mandy Moore is wearing a short, choppy hairstyle that features a deep side part and choppy side swept bangs. The bangs help to camouflage a high forehead and balance out facial features .
The layers in the crown area have been tousled and teased for a full volume look.
Mandy makes this style work with class. Her brunnette locks mixed with multi-tonal highlights for an eye-popping allure. The bangs have added texture and choppiness along with tousled strands.