Marley Shelton Hair Styles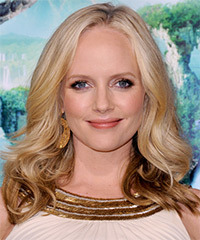 The appearance of bangs can be done with updos, short, medium or long hair styles. Tomorrow when you don't want the bangs, just part your hair normal. Its that simple.
Marley Shelton gives us a great example of how to make it look like you have bangs. Swooping hair from a deep side part drape across the forehead to form the appearance of bangs.

This is a very easy way to style your hair and make it look like you have bangs, but you actually do not. Other options for getting the hair bang look without actually having them is to get clip-in hair bangs. Quality clip-ins made with real human hair can be quickly clipped into your forehead for a quick style change. Then when you are done with the look, just unclip them and voila your hairstyle is back.

Paired with a high, curly full updo, the looks-like-bangs adds a softness to the style that is unmatchable.

Lindsay Lohan Hair Styles
Lindsay Lohan is wearing her hair in a style that looks like she has bangs. But she doesn't.

Try out the long, convertible hair fringe for a new look. Wear your hair one one side or the other, or simply brush the hair straight back and you can make them disappear.

This is the no-commitment bang that allows you a lot of versatility.